About No Ink Media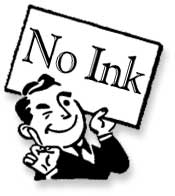 No Ink Media came about during a brainstorming session to name a "New Media" services group owned by an "Old Media" company. While the name No Ink Media was deemed as too "in your face" to suit the powers-that-be, the individual who suggested the name decided to later resurrect it for his own enterprise.
Bardstown native Jim Brooks is owner and principal designer at No Ink Media. Jim has been surfing the Internet since 1990, and has been designing Web sites since 1995. He offers more than a decade of award-winning print and photojournalism experience. His Web designs have won several awards, including one from the National Association of Portrait Photographers.
To contact No Ink Media, use the feedback form, or send e-mail to info@noinkmedia.com.